Mandalas
Inspired by the beauty of Mandala patterns we started to design and produce these items in our workshop.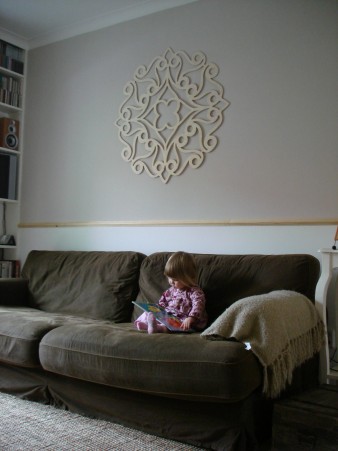 In General:
The execution of wooden patterns gives a lot of practices like window and wall decoration, panels in cabinet doors, room divider, or covered by a glass plate for a table top etc. Endless variation possibilities in pattern, size, thickness and different kind of wood sheets. Leaving the wood natural or stained and lacquered. In Assignment we can cut almost any pattern with a clear line.
Material:
We mainly use Birches plywood in the thickness varying between 1,5mm-18mm. The cutting dimension has a maximum of 120cm x 150 cm, so a diameter of 120cm is maximum. This allows a lot of freedom in design and possibilities.

Procedure:
The cuttings is done by a CNC routing machine with very small router bits of 2mm, so we can do a very accurate and meticulous job. All other operations like sanding, staining and mounting is done by hand.
Finishing:
One can leave the wood natural as it is or apply stains and eventually finish off with lacquer. We only use products on water base. We have 16 different colors on stock, but we can make any color you like. Colour Chart When you have a color number( Pantone is best) or sent us a sample we can mix it for you.

Shade Lights:
The shadow of the pattern is projected on the wall or the ceiling in which case a three dimensional effect occurs. The shadow becomes a part of the lamp as a whole. For the best effect one should use a spot light bulb.( 40 or Max. 60 Watt.) This bulb has a silver coating on the front in which case one is not blinded by the light that reflects backwards. We can make this lamp in many different colors. We cut the patterns out of 6mm Birches plywood. The type for the ceiling is fixed at the central electric circuit box. The lights on the wall have a transparent cord with a switch.
Decorations:
The patterns are cut out of 6mm Birches plywood. In stock we have 30x30cm and 50x50cm. We can produce any other pattern and size up to 120cm diameter.